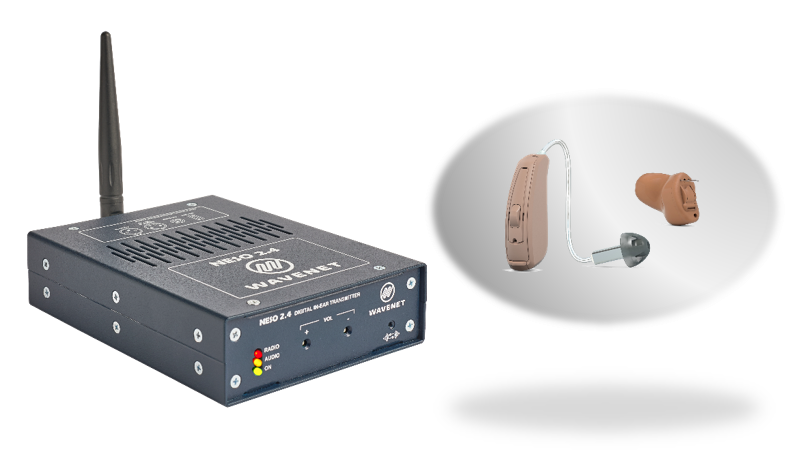 DIGITAL AUDIO TRANSMISSION SYSTEM FOR MONITORING.
NESO 2.4 is a DIGITAL AUDIO TRANSMISSION SYSTEM for monitoring applications to be used in TV productions, TV sets, theatre, stage management, technicians, etc.
NESO 2.4 system is made of a radio frequency base station which works on the 2.4GHz ISM band, and a complete range of hearing terminals both in-the-canal and behind-the-ear, all of them focused to high quality audio transmission/reception for professional applications.
The system is factory configurable.
NESO 2.4 – BASE STATION
NESO 2.4 base station is a 2.4 GHz ISM band, with Frequency Hopping technology and GFSK modulation.
NESO 2.4 – HEARING TERMINALS
The NESO 2.4 hearing terminals range includes a variety of radio frequency in-the-canal and/or behind-the-ear terminals, which fit to each user.
They are configurable in some of their working parameters.
They are long life Zinc/Air batteries (mercury free) powered, or rechargeable battery powered.
All the hearing terminals can be formfitting customized.
SPAIN (factory and headquarters):
WAVENET RF ENGINEERING
Polígono Industrial Requena, nave 79
45214 CEDILLO DEL CONDADO (Toledo)
TEL: +34 925 508 791
E-mail: wavenet@wavenetradio.com
AUDIOSENSE 
Stroobantsstraat 48b – 1140 BRUSSELS
TEL: +32 2 241 40 02
E-mail: info@audiosense.be
NAGRIT S.R.L.
Via Ildebrando Vivanti, 89 – 00144 ROMA
TEL: +39 06 4543 509
E-mail: sales@nagrit.com
AUDIO LAMBDA S.R.L.
Via Pietro Giannone 27/G – 00195 ROMA
TEL: +39 06 3972 5452 – +39 06 3903 0254
E-mail: sales@audiolambda.com
EVERYTHING AUDIO LTD. 
Unit 5 Elstree Film Studios – Shenley Road WD6 1JG Borehamwood – UNITED KINGDOM
TEL: +44 20 8324 2726
E-mail:
A.E.I. TECH 
Avenue de la Mauldre 6 business village. 78680 Epône
TEL: +33 1 45 25 51 00
E-mail: info@aeitech.com
PORTUGAL & PALOP (ANGOLA, MOZAMBIQUE):
CLS AUDIO
Avda. Infante D. Henrique – Ed. Xerox. 1900-000 LISBOA
TEL: +351 963147098
E-mail: lisboa@cls-audio.com
AEQ MÉXICO 
Paseo de la Reforma 107 #601 Delegación Cuauhtemoc – 060.0 México DF – México
TEL: +52 55 5413 2716
E-mail: creyna@aeq.es
Q5X ®
30 Adelaide St. N, London, ON, Canada, N6B 3N5
TEL: +1 519-675-6999
E-mail: sales@q5x.com
TELE PONTO ®
Rua Antonina, 197 – Vila Camilopolis, Santo André/ SP 09210-330
TEL: +55 11 4996.4419
E-mail: comercial@teleponto.com.br
BLACK AUDIO SALES AND RENTAL
1147-1149 Botany Lane, Mascot, NSW 2020. AUSTRALIA
TEL: +61 45 112 3324
E-mail: quin@blackaudio.com.au
KAZAKHSTAN & CENTRAL ASIA:
ASIA TECHNOLOGY SOLUTIONS
Qabanbay batyr ave. 2/2, Astana, Kazakhstan
TEL: +7 747 414 14 17                                          MOBILE : +7 775 165 01 95                        WHATSAPP: +7 705 795 82 07
E-mail: sales@asiatechs.kz