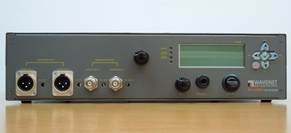 ANALOG MOBILE AUDIO LINK
The system 5000 is a long range broadcast quality audio radio link, designed for easy handling and high reliability.
BS 5000 Tx has a RF power higher than 30W, and 5 audio inputs with switchable micro/line gain selector. This versatility allows you to use virtually any situation.
RS 5000 Rx gives a high sensitivity in signal reception, and a great resistance to interferences. These features ensure the correct working of the receiver with all kinds of electronic equipment.
Both of them have a complete backlit display with navigation keys acting and posing all parameters, alarms and equipment selections.
Accept power supply 90-250 VAC and 12 VDC.
It is 19" format, so it can be installed in a standard rack.