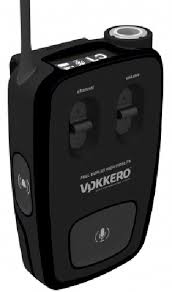 The Vokkero® Guardian Plus system, has been specially developed for teams working in the broadcasting and entertainment sectors.
Vokkero® Guardian Plus perfectly meets the needs of all mobile teams (stage management, lighting, production, etc.) seeking instant, hands-free communication, while remaining constantly connected to members of the mobile team.
Its greatest asset is its ultra-sensitive patented noise filter for «crystal clear» audio communication. It therefore ensures optimal listening quality even in very noisy environments (music, crowds, shouting, etc.).
The Vokkero® Guardian Plus system facilitates unrestricted movement as it does not have a base.
In addition, a network extension can be provided to ensure compatibility with the various wired intercom systems (2 wire and 4 wire) already installed in your work environment.
Hands-free, instant communication system
Patented noise filter, suppression of background noise
User alert by vibrating, audible signal or/and blinking light
HD quality audio system
Continuous conference, unlimited users
Intuitive to use
Increases your service performance
Headset & smartphone connection, call handling
Multichannel, several systems on one site